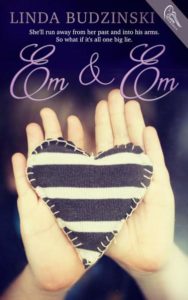 We are Excited to announce that Adolescent has optioned Linda Budzinski's young adult novel, Em & Em for development as a series.
Em & Em follows sixteen-year-old Emily, who must go into the Witness Protection program and reluctantly start a new life in the Midwest. The newly-named Ember O'Malley finds herself making new friends, taking photos for the high school newspaper, and thinking an awful lot about the paper's editor, a cute cowboy named Charles. But as her day in court approaches and her secrets start to catch up with her, Em needs to figure out who she really is – Em or Em.
Author Linda Budzinski has written three young adult novels including Em & Em, and has won the Romance Writers of America Young Adult Rosemary Award and Virginia Chapter's Fool for Love Award for her work. She lives in Northern Virginia with her husband.
Adolescent is a think tank, production company, and digital platform dedicated to the creation of entertainment content created by youth for youth. Development of Em & Em will be overseen by Ramaa Mosley and Hope Farley.